Are you someone who just loves to camp a lot?
I am not going to lie; camping is one of the most fun activities you can do. And if you have a car, then it just gets better because you can go on so many camping trips more often.
Now, on those camping trips, you will surely feel the need for a tent. But sometimes, it's just not possible for you to carry the tent inside your car. That's when you will start looking for the best roof rack for a rooftop tent to meet your needs.
Rooftop tents are so great to have on your camping trip. So, you surely wouldn't want to miss that chance when you have the easier way to carry them alongside. 
Keeping up with that, let's check out the different rooftop tent racks for trucks and cars.
Our Top Picks: Features Comparison Table
Running low on time?
Don't worry; you can take a glance at this comparison table to see how each of the roof racks stands out.
You can find the best roof rack for rooftop tents within quick succession through this.
While this can give you a slight idea of which one you should be rooting for, it doesn't help you decide on one. That's why I recommend diving deep to find out your perfect choice.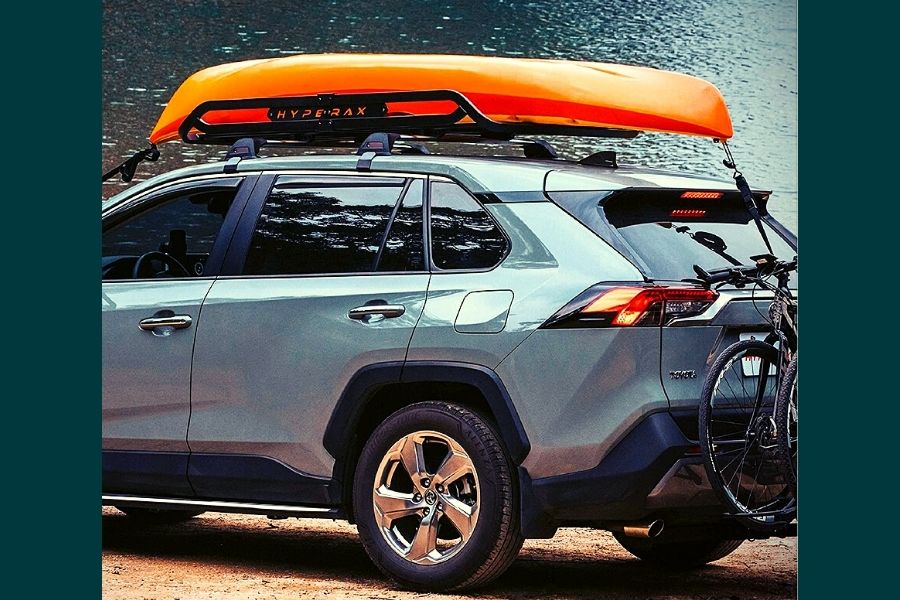 Buyers Guide For The Best Roof Rack For A Rooftop Tent
Can any roof rack get the job done for you?
The answer is no. Even the best roof rack can be useless to you if it doesn't meet your particular needs.
Here, I will go through some factors that can help you choose a suitable roof rack for your use.
Weight Capacity
The first thing you have to think about while buying a roof rack is the weight capacity. How much weight the rack can hold plays a huge role in the quality of the roof rack for your tent.
Usually, this will depend on the roof tent you already have. You have to aim for a bit higher than the weight of your rooftop tent. For example, in general, rooftop tents weigh around 60kg, so getting a roof rack with a capacity of around 80 to 100kgs will work out the best.
Remember, the ratings you see on the roof racks are typically dynamic. This means it has that holding capacity while your vehicle is moving. At a standstill, the capacity is much higher.
Size
Well, the size of the roof rack has to be large enough to accommodate the tent. Otherwise, what's the point of having one, right? Once again, this will highly depend on the roof tent you currently have, depending on your vehicle.
You have to look for roof racks that suit the dimensions of your cars because you don't want them looking out of place on your vehicle. At the same time, you have to check whether the roof tent fits the rack or not.
Type Of Roof Rack
There are two choices that you get for roof racks. You can either get a permanent roof rack or a crossbars roof rack. Permanent roof racks are best suited when you want sturdiness out of your roof rack. Also, they are great at holding more weight. You get a proper weight distribution throughout your vehicle with this kind of roof rack.
On the other hand, you have the crossbars that I would say can hold up a good amount of weight. But the issue is with the weight distribution. Since it won't be directly connected to the vehicle, it doesn't use the proper dimension to distribute the weight. Because of that, it's not as sturdy as a permanent roof rack.
The Setup Of The Rack
How the rack is set up also impacts the buying decision a bit. You have to think about the gap between the racks and the roof. Without the proper amount of gap, you will have a hard time managing the bolts as fastening or loosening them becomes difficult. So, you would want a roomier space around that to work with the roof rack with ease.
Rack Height
The rack height refers to the height from the ground. You should be able to reach the top of the rack without struggling too much. That's the height you should be aiming for. Also, you have to consider the roof tent ladder height alongside.
So, before you get a rack, I recommend measuring the height from the ground up to match the roof tent requirements.
Aside from all these, there is always the question of price, but I think that's more of a personal thing. You can always go based on that if you want. But these are the factors that may impact whether you end up satisfied with the roof rack or not. So, considering these are important.
The 7 Best Roof Racks For Rooftop Tents
Enough with the information and guidance; let's dive deep into the actual thing. Here, I bring you the top 7 roof racks that you can find out there to suit your rooftop tent requirements. These are some high-quality choices so that you can rely on them without any doubt.
Are you looking for a roof rack for your Subaru outback? Then, this is going to be a great choice for your vehicle. It has the perfect dimensions and size measurements for the vehicle. It just fits the whole thing flawlessly.
Sturdy Construction
While the size is perfect for your vehicle, it's also great in terms of durability. The coating on the rack is of high quality that doesn't come off easily. And the material is also quite rugged for daily usage.
Excellent Weight Capacity
With a weight capacity of 150lbs, you will hardly need to worry about carrying your rooftop tent on this one. It can hold up the weight of most rooftop tents out there.
Pros
The construction is very durable
It's easy to set up with a bit of assistance
This can hold up a good amount of weight
The dimension is quite large for better spacing
Offers square crossbars compatibility for better stability
Cons
The screw holes on the rack are slightly off
Fixing the clamps with the crossbars can be a bit tricky
This is the perfect roof rack for anyone who has a roof tent for 4runner. Whether you think about quality or the fit, it just meets all the needs of a 4runner. Along with that, it has plenty to offer.
Adjustable Size
One of the key features of this roof rack is its adjustable size option. You can simply fit this on almost any car by adjusting the rack size. Whether you are driving an SUV Van or even a full-sized car, it doesn't matter.
Easy Installation
The roof rack features an easy installation process that doesn't take a whole lot out of you. It uses the traditional 4 U-bolt setup on crossbars with some mounting hardware for the installation. It's nothing complicated to set up; you can do it yourself.
Pros
This has the adjustable size for a better fit
You can easily install this on your vehicle
It has a pretty sturdy construction
The rack is quite spacious
This is a value for money rack option
Cons
Rust can be a bit of an issue on this rack
The instructions you get for this aren't clear
When you get this roof rack for your vehicle, you won't have to worry about your tent falling off the roof. It has got railings all around and metal bars on the bottom to keep things in place.
Larger Storage Capacity
You are starting with the fact that this rack has quite a large capacity. You can hold a lot of stuff on the rack to carry on your camping trip.
Heavy Steel Construction
The rack comes with pretty rugged construction, so you don't have to worry about the durability factor. The powder coating on the rack makes it resistant to rough weather conditions and other external factors like scratches or tears.
Pros
The rack is very secure to hold stuff.
It has a sturdy construction for better durability
With a large storage capacity, you can carry a lot of stuff
Holds up good weight
It's easy to install on most vehicles
Cons
There is the issue of rusting on the bars
The supplied hardware in this rack isn't the best in quality
Not a regular camping enthusiast? Then, you might be looking for a comparatively affordable option to choose from. This is one of the best picks for that with a reasonable price on it.
Quick And Simple Installation
There is no trouble in using complicated tools to install this one on your vehicle. All you need is a 10mm socket and a Philip head screwdriver. And having a rubber mallet can also help out a bit.
Provides Additional Spacing
On this roof rack, you get some additional space that works out great when you are on a family trip. It has got more than enough space to accommodate a large tent or plenty of luggage with ease.
Pros
It's reasonably priced
Very easy to install on your vehicle
Holds up quite a lot of weight
It's very spacious
Comes with high metal rails for secured
Cons
The build quality isn't the best
You will need to do some work to make it last long
Well, you probably don't ever want to ruin how your vehicle looks from the outside, right? Then this is the perfect roof rack for that purpose. It's sleek and slim in design, so it doesn't make your vehicle look awkward.
Holds Up Quite Well
While it may look all sleek and slim, it doesn't lack the hold-up capacity. You can still carry up to 150lbs of weight on this rack without any issues at all.
Strong Aluminum Build
This rack is prepared for withstanding most conditions with aluminum construction. You won't have to worry about any kind of weather damage on this rack at all. It's suitable for most conditions.
Pros
Looks stylish with a sleeker design
It has a good weight capacity
The build quality is impressive
Easy to install without too much hassle
The price is reasonable on this rack
Cons
It can feel a bit flimsy
It doesn't provide a whole lot of space
I don't think you can get better quality than this one on any roof rack out there. If it meets the requirement for your vehicle and your roof, it should be the go-to option. I will love the appearance of the crosstrek rooftop tent.
Durable Design
With the all-steel construction, you can expect excellent durability from this thing. This provides a weather-resistant coating on top for greater protection against rough weather conditions.
Accommodates A Lot Of Items
You will never have to worry about spacing when you have this. Especially if it's other Yakima camping gear, you get some extra benefits with greater compatibility.
Pros
Excellent build quality
Provide enough space for gears
It doesn't make a lot of noise
Easy to install with the least assembly requirement
Offers an optional extension for expanded storage
Cons
It won't fit a lot of the cars out there
Not the most affordable option
Whether you drive an SUV, BMW, Pioneer, Jeep Cherokee, or Honda, it doesn't matter for this one. It will fit onto most of the vehicles out there. Because of that, it's a great pick if you are looking for versatility.
Excellent Weight Capacity
Unlike most of the choices, this roof rack provides 250lbs of weight capacity, which is impressive. You can easily carry a lot of heavy stuff on this one without overthinking.
Spacious
With the fit compatibility, you also get good spacing on the rack. So, no matter what vehicle you have, you can hope to carry a lot of stuff along with you on your camping trip.
Pros
Fits a lot of different vehicles
Good weight capacity
Provides a lot of room for stuff
Build quality is pretty good
Great value for money
Cons
It's not rust resistant
Needs some work for better results
FAQ
The best roof rack for rooftop tents also invites some questions that are pretty common amongst people. Let's check them out quickly.
What Are The Best Roof Racks For Rooftop Tents?
When it comes to roof racks, there are so many variables that you have to consider to get the best one for yourself. Having said that, Yakima roof racks are always one of the best options to rely on for rooftop tents. They come with good quality that never lets you down.
What Type Of Roof Rack Do You Need For A Rooftop Tent?
It mostly depends on your needs. If you are into regular camping, going for a permanent roof rack is the best option. Other than that, you can go for crossbars that aren't as stable as permanent roof racks but can get the job done for the most part.
Can I Install This On My Car Or Truck Roof Itself? If So, How Do I Go About Doing That?
Yes, even if your vehicle doesn't have a rack, you can install one all by yourself. There is no straight method as different racks will have different installation forms. You will need a helping hand and some general tools like sockets and screwdrivers most of the time. Lastly, most roof racks come with an installation guide that you can use for doing the whole thing by yourself.
Final Words
To sum up this whole best roof rack for rooftop tent thing, I can only say there is no one true option. All of that comes down to the fact of what you need from your roof rack and how does it fit in your case.
Among the choices I listed here, I have to say the YAKIMA – LoadWarrior, Rooftop Cargo Basket is probably one of the best options you can go with. Unless money is an issue, you should surely go with this one because it provides the most reliable quality you can expect.
Other than that, everyone offers good quality and has a unique value to them. So, if any other choice meets your needs, you can surely go ahead and try them out.
Hi, this is John A. Clark. A crazy camper and adventurous camping enthusiastic. I love outdoor activities. I have been camping for almost 12 years.
I share my exciting experiences in writing blogs. Campings Lab is my website to help people who are the same mind like mine.
Happy reading! 🙂