The inflatable camping tent is a very popular word in the outdoor recreation industry. Big brands are introducing new versions of the inflatable tent. Campings lovers sometimes ask a very common question, what is an inflatable tent or air beam tent? 
It looks, the word seems something any bouncy thing but it is not like that at all. An inflatable tent is mechanically different from the other type of tent, in that case, it uses air beams rather than any traditional fiberglass poles. So, we can also call them air tents or poleless tent. 
Inflatable tent camping makes your tenting experience very easy, fast, and enjoyable.
Now let's see the benefit. Are air tents better than pole tents?
The answer is of course, yes. How?   
Advantages Of Inflatable Tent
:
Here are some benefits you need to know before purchasing a tent.
Easy to set up: 
If you are not a camping expert, don't worry. You could manage it very smartly without any problems. Only a single person can set up it even can use the foot pump to push air into the tent beam. This feature makes it unique from the traditional type.  
Smart Fixing:
If by any chance you face any puncture problem, you don't need anyone to help. Very easy to repair. You don't even need to read the complex user manual to install and solve problems.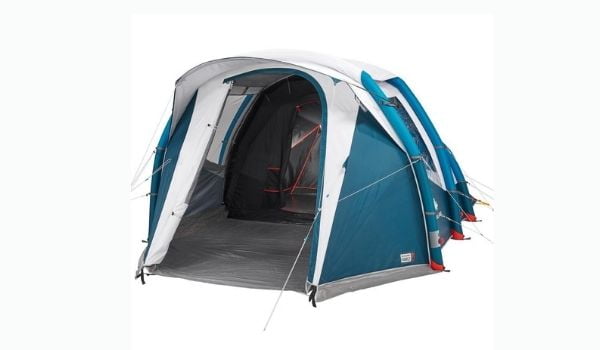 Strong material: 
It is unbelievable that without having any traditional metal pole, it is stronger than other types. It is durable and adjustable for any bad weather conditions.
Time Saver:
When you are in leisure mode, it is disturbing if you need hours to set up the campaign accessories. Within a few minutes, you can set it up yourself. It can save you time and give you a hassle-free camping experience. 
So you are still confused and have questions in your mind, are inflatable tents good in wind?
Yes, they are good enough in the wind and any rough condition. They have sturdy beams, that make them stronger to support in bad weather.
Inflatable tent problems: 
Considering all of the factors, here are some problems with an inflatable tent. 
Expensive: 
It is a little expensive compare to metal poles tents. But at the same time, you will love using it.  
Weight: 
It is slightly heavier. Moreover, you need to carry a foot air pump, it may increase your backpacking weight.
What is the best inflatable tent? 
In my personal experience, I would love to share the best inflatable tent online list. Today I am mentioning only the name but if you want to learn more about it, please keep reading and open your eyes to CampaignsLab to get updated reviews for every product.
Vango Ringstead Air Adult Mixed Inflatable Tent

Wenzel Vortex 8 Person Tent

Easy Camp Hurricane 500 Inflatable Tunnel Tent

Vango Airbeam Portland Tent 500

Easy Camp Tempest 500 Inflatable Tunnel Tent
In the end, I think you got the answer to "what is an inflatable tent or air beam tent"? That's why this poleless tent beam concept is so much popular. But you need to check and research when you will make the purchasing decision.
Hi, this is John A. Clark. A crazy camper and adventurous camping enthusiastic. I love outdoor activities. I have been camping for almost 12 years.
I share my exciting experiences in writing blogs. Campings Lab is my website to help people who are the same mind as mine.
Find me on Twitter here. Happy reading! 🙂